Search for the Valkyrie



---
In 1985, Pete Merlin began to think about searching for the XB-70 crash site. On 8 June 1986, He and Mark Miller attempted to find the site using information in a book by Steve Pace. It identified the location as four miles north-northeast of Barstow, and there was a photo of the wreckage next to a large Joshua tree. Pete and mark found the area four miles N-NE of Barstow to be virtually devoid of Joshua trees. It was clearly not anywhere close to the crash site. Pete vowed to get more information and try again.

Having read Pace's book, Tony Moore was also thinking about searching for the XB-70. In 1989 he stopped in Lancaster to check out an aviation collectibles store called Thomas Aviation. There he saw a photo of the store's owner Tom Rosquin standing in the desert holding pieces of the XB-70. Tony questioned the sales clerk, an elderly lady named "Smitty" about the crash site location. Smitty told him to "look near the radar dish." Tony thought that meant the Deep Space Tracking Station at Goldstone and ended up making a fruitless search in the vicinity of Superior Valley.

After spending a great deal of time and effort, making several journeys to the Barstow area, and questioning Tom and various Barstow locals Tony wasn't about to give up. Tom ultimately provided Tony with enough clues to get him into the right area. Tony had been studying old photos of the crash site until the images were burned into his brain. As soon as he got close to the site, he experienced an intense sense of déjà vu. He recognized a distinctive large Joshua tree and knew he had arrived. Stepping out of the car, Tony spotted a metal fragment with white paint on one side and stainless steel honeycomb on the other. He had found it!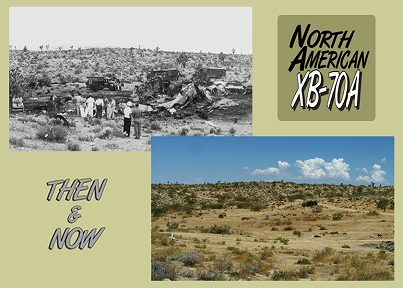 Pete also visited Thomas Aviation in 1989 and saw the same photo that inspired Tony's search. Tom was never in the store when Pete visited Lancaster so he never had a chance to ask about the site location. At the time, Pete was working for Skywest Airlines at Burbank Airport. Skywest's airplanes were fueled by a company called ASI, Inc., but a few years later the fueling contact was transferred to Mercury. Each day, the Mercury truck pulled up to the Skywest gate and Pete greeted the fueler, Tony Moore, and told him how much avgas they needed.

On 4 May 1992, Pete returned to work from a two-week vacation. Tony remarked on his absence and Pete regaled him with tales of his trip. Pete told him that he had been exploring ghost towns, mines, caves, nuclear test sites, and prehistoric rock art sites in California and Nevada. Tony remarked that he liked to look for airplane wrecks. "You would have liked this trip," Pete said. "We visited the crash site of a Convair 340 near Bishop." Then Tony uttered some fateful words: "I've been to the XB-70."

The next day, Pete showed Tony a topographic map of the Barstow area and asked where the XB-70 crash site was located. Tony had worked hard to find it and wasn't willing to tell Pete exactly where it was. "It's right around here," he said, indicating about a two-square-mile area.

Pete went home and pulled out a photo he had acquired from the Air Force Flight Test Center History Office. It showed smoke rising from the burning wreck of the XB-70 in hilly desert terrain. There were a number of distinctive dirt roads and gullies nearby. Pete compared the photo to the area that Tony had indicated on the map and marked the spot that seemed identical on both. The following Sunday, Pete drove to Barstow to test his theory. As soon as he saw the Joshua tree Pete knew he had found it.

On Monday he told Tony who was impressed that Pete had located the site so quickly. They discussed other airplanes that had crashed and found that they had a mutual interest in experimental planes and the history of Edwards. "So, what should we look for next?" Pete asked. Tony answered without hesitation: "The X-15."
| | |
| --- | --- |
| XB-70 TIRE FRAGMENT THIS FRAGMENT OF B.F. GOODRICH "SILVERTOWN" AIRCRAFT TIRE WAS FOUND AT THE MAIN CRASH SITE. THE BLACK UPPER AREA IS A PORTION OF THE TIRE TREAD SHOWING WEAR FROM LANDINGS. THE SILVER COLORED AREA BELOW IS THE HEAT REFLECTIVE ALUMINIZED SIDEWALL CAPABLE OF WITHSTANDING THE 360 DEGREE (F) TEMPERATURES GENERATED DURING FLIGHT | XB-70 ENGINE PARTS 1.ENGINE THERMAL BLANKET 2. VARIABLE STATOR VANE ACTUATORS (NOTE GENERAL ELECTRIC (GE) ENGINE MFG. STAMPS & NUMBERS) 3. COMPRESSOR BLADE FRAGMENTS 4. TURBINE BLADE FRAGMENTS (NOTE SMALL HOLES IN BLADE CROSS SECTIONS USED FOR INTERNAL COOLING) |
| | |
| --- | --- |
| XB-70 FUEL DRAIN DOOR (INNER) INSIDE DETAIL OF FUEL DRAIN DOOR WITH HINGE. THE DOORS "CAM-LOCK" FASTENER WITH IT'S LATCH SIDE PULLED FROM THE AIRCRAFT IS STILL ATTACHED AS IT WAS FOUND, LOCKED TOGETHER BY A NORTH AMERICAN AVIATION FLIGHTLINE MECHANIC THAT MORNING IN 1966 | XB-70 FUEL DRAIN DOOR (OUTER) OUTSIDE DETAIL OF FUEL DRAIN DOOR WITH HINGE. THESE DOORS WERE POSITIONED ALONG THE ENGINES AT THE BOTTOM OF THE AIRCRAFT. THIS DOOR WAS FOUND AT THE MAIN CRASH SITE IN AN AREA WHERE ENGINE DEBRIS WAS LOCATED. THE HINGE WAS ALSO FOUND SEVERAL FEET AWAY |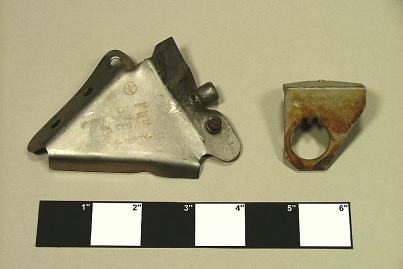 XB-70 INSPECTION STAMP & PART #'S AIRCRAFT PARTS SHOWING NORTH AMERICAN AVIATION INSPECTION STAMPS AND PART NUMBERS. THEY ARE MATCHED TO KNOWN STAMPS AND AIRCRAFT NUMBERS FOR POSITIVE IDENTIFICATION OF A CRASH SITE
| | |
| --- | --- |
| XB-70 COCKPIT PARTS 1. INSTRUMENT CASE FRAGMENT 2. INSTRUMENT PANEL FRAGMENTS 3. LANDING GEAR DOWN INDICATOR LIGHT LENS (GREEN) 4. INSTRUMENT PANEL FRAGMENT WITH DATE STAMP (DEC. 14 1962) 5. FUSE PLACARD 6. FUSE HOLDER 7. SAFETY SWITCH WITHOUT COVER 8. COCKPIT INTERIOR FRAGMENTS | XB-70 MISC. PARTS 1. TIRE RIM FRAGMENTS 2. STENCILED WHITE PAINT ON HIGH HEAT RED SILICONE 3. AIRCRAFT FUSELAGE SKIN WITH BLUE PAINT FROM "STAR & BAR" INSIGNIA 4. HIGH HEAT RED SILICONE DUCTING FLANGE 5. PHENOLIC TUBING GUIDE 6. SMALL ACTUATOR 7. HIGH HEAT RESISTANT ELECTRICAL CABLE SECTIONS |
| | |
| --- | --- |
| XB-70 HONEYCOMB AND FUSELAGE FRAGMENTS 1. INNER SURFACE OF STAINLESS STEEL FUSELAGE SKIN SHOWING WELD MARKS FROM MISSING HONEYCOMB MATERIAL 2. SINE WAVE SPAR FRAGMENT 3. STAINLESS STEEL HONYCOMB FRAGMENT 4. STAINLESS STEEL FUSELAGE SKIN FRAGMENTS WITH WHITE PAINT 5. FIBERGLASS RADOME FRAGMENT SHOWING FLAT BLACK PAINT 6. INNER SURFACE OF STAINLESS STEEL FUSELAGE SKIN WITH HONEYCOMB MATERIAL ATTACHED | XB-70 FUSELAGE FRAGMENT THIS FRAGMENT OF STAINLESS STEEL AIRCRAFT SKIN WITH THE HONEYCOMB MATERIAL STILL ATTACHED WAS FOUND IN A SMALL CANYON OVER A MILE FROM THE MAIN CRASH SITE |
| | |
| --- | --- |
| XB-70 AIRCRAFT FUSELAGE FRAGMENT (OUTER) AIRCRAFT FUSELAGE FRAGMENT FOUND ON A HILL SIDE OVER A MILE FROM THE MAIN CRASH SITE | XB-70 AIRCRAFT FUSELAGE FRAGMENT (INNER) INNER DETAIL OF AIRCRAFT FUSELAGE FRAGMENT SHOWING WELD MARKS FROM ATTACHMENT OF STAINLESS STEEL HONEYCOMB MATERIAL |

---
Copyright © 2004-2016, The X-Hunters. All rights reserved. Copyright Policy Privacy Policy Page last modified 01/30/2007