Mk.17 Thermonuclear Weapon



---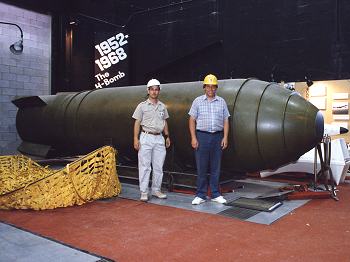 PETER MERLIN AND TOM KINZEL WITH A MK.17 ON DISPLAY AT THE NATIONAL ATOMIC MUSEUM LOCATED ON KIRTLAND AFB IN ALBUQUERQUE, NM

The Mk.17 was the largest and most powerful bomb ever deployed by the United States. It was 24.67 feet long, 5.11 feet in diameter, and weighed 42,000 pounds. Only the Convair B-36 was capable of carrying the Mk.17, which could be fuzed for air or contact burst. Designed by the Los Alamos Scientific Laboratory (LASL) to use lithium hydride, the Mk.17 was a multi-stage, solid-fueled thermonuclear explosive device. The weapon had a design yield between 10 and 15 megatons of TNT. Its explosive power was roughly 1,000 times greater than the atomic bomb that destroyed Hiroshima, Japan during World War II.

Several versions were deployed. The Mk.17 Mod 0 incorporated a drogue parachute system to retard the weapon's descent, thus ensuring the safety of delivery aircraft crews. The Mod 1 design included an in-flight insertion mechanism for increased safety, composite metal and plastic tail fins, and an improved primary (fission) stage. The Mk.17 Mod 2 featured a contact fuze for surface bursts. A total of 200 Mk.17 weapons were produced between October 1954 and November 1955. In service for only two years, all were retired from the stockpile between November 1956 and August 1957.


---
Copyright © 2004-2016, The X-Hunters. All rights reserved. Copyright Policy Privacy Policy Page last modified 01/30/2007