Thud 71



---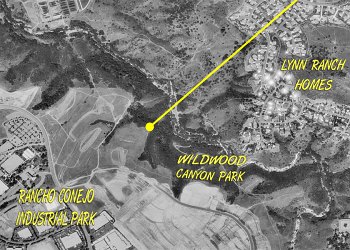 APPROXIMATE PATH OF "THUD 71's" FINAL SECONDS OVER THOUSAND OAKS, CA

In the span of 10 years Maj. Charles T. Fulop had a diverse flying career. After graduating from Miami University of Ohio in 1968, he entered the U.S. Air Force. His first assignment took him to Del Rio, Texas, for training. Eventually he became a navigator on B-52s at Minot AFB, North Dakota.

Fulop deployed for several three-month tours of duty in Thailand, flying combat missions over North Vietnam. He was later assigned to McConnell AFB, Kansas, for pilot training in the F-4 Phantom II and was subsequently stationed at Homestead AFB, Florida. Fulop then made a fateful decision to transfer to duty as an F-105 pilot at George AFB, California, so he and his wife could be closer to her family. At George, he was assigned to fly the F-105G Wild Weasel with the 561st TFS.

On 2 March 1978 Fulop and his Electronic Warfare Officer, 1Lt. William A. Stone, climbed into the cockpit of F-105G (63-8321). As number two in a flight of four airplanes, they were assigned call sign THUD 72. The mission was planned as an air-to-ground weapons delivery sortie over Cuddeback Bombing and Gunnery Range. Each airplane was equipped with two 450-gallon external wing-mounted fuel tanks and a SUU-20/A dispenser loaded with six 20lb. practice bombs.

Due to existing and forecast range weather, the 561st TFS Operations Officer requested the practice bombs downloaded and changed the scheduled mission to a dedicated instrument training sortie. The new mission plan called for the F-105 crews to fly round robin flights from George and back again, with an enroute delay to practice instrument approaches at Naval Air Station Point Mugu near Camarillo. Weather at Point Mugu was overcast with two-mile visibility, light rain showers and fog.

Two of the original four aircraft, THUD 71 and THUD 72, filed a round robin clearance and prepared to depart as a flight of two. After engine start, however, the lead aircraft was forced to abort due to LOW OIL PRESSURE and INLET PRESSURE CAUTION lights. Fulop and Stone then changed their call sign to THUD 71 and departed as a single-ship sortie.

The mission proceeded according to plan until just after Fulop executed the first missed approach at Point Mugu. Shortly after passing the departure end of the runway, he requested immediate clearance to return to George and indicated that he had a problem. Simultaneously, Mugu Approach Control lost THUD 71's IFF Mode C altitude reporting function, followed shortly be the IFF Mode 3/A position reporting function.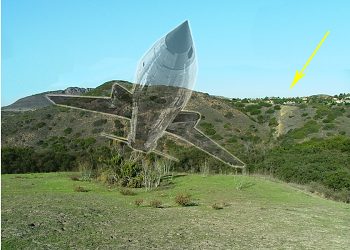 F-105 IMAGE GHOSTED OVER THE AIRCRAFT'S POINT OF IMPACT. ARROW SHOWS THE THOUSAND OAKS NEIGHBORHOOD THAT MAJOR FULOP STEERED HIS CRIPPLED BOMBER AWAY FROM AS HE PLUNGED THROUGH THE OVERCAST SKY THAT MORNING

Clearance to George was granted. As THUD 71 headed inland over Camarillo and Thousand Oaks, Fulop apparently realized he wasn't going to make it back to his home base. He declared an emergency, announced that his attitude indicator had failed and stated that he needed to return to Point Mugu as soon as possible. Mugu Approach Control tried to vector THUD 71 back to the airfield, but Fulop didn't follow the recommended vectors and stated that he was climbing to get above the clouds. He didn't make it.

As THUD 71 broke out of the bottom of the overcast, Fulop saw that his jet was plunging toward the community of Newbury Park. He managed to steer his stricken craft toward the only open land he could see between a neighborhood and an industrial park.

Fulop initiated the ejection sequence for Stone and the EWO was blasted out of the rear cockpit. His parachute opened and Stone floated down into heavy brush on the rugged slope of Hill Canyon above Arroyo Conejo. Seconds later, Fulop and the F-105 impacted at the edge of a field on the canyon rim. He was killed instantly as the plane exploded.

Nearby witnesses immediately contacted authorities and reported a downed plane in a field east of the Northrop plant. Sheriff's deputies Mike Kipp and Herb Roper arrived on the scene in less than five minutes and ran nearly a mile and a half to the crash site from the nearest road. While Deputy Roper approached the burning wreckage, Deputy Kipp climbed down the steep hillside, forded the creek and struggled up a rugged slope to check on the surviving crewman. Lt. Stone, tangled with his parachute in some trees, had suffered a number of broken bones and cuts, but was conscious and responsive.

Sheriff's Sgt. Mike Brown soon arrived and took charge of the scene, requesting additional emergency response from the Fire department, Federal Aviation Administration, and military. He also coordinated efforts to extract Lt. Stone by helicopter and transport him to a hospital for treatment.

While deputies Kipp and Roper searched the main crash area for additional victims, an explosion knocked them to the ground. They were uninjured by flying debris, but a choking cloud of noxious smoke obscured the scene for several minutes. Fearing other secondary explosions, the deputies expanded the secure perimeter around the crash site until Navy explosive ordnance disposal teams arrived. Ammunition from the airplane's 20mm cannon continued to explode sporadically.

As the day wore on, the authorities got matters in hand. The military set up an inner perimeter and the Sheriffs kept bystanders at bay from an outer perimeter. The Air Force investigative team arrived several hours after the crash. Ten deputies, including Kipp and Roper, were hospitalized for exposure to noxious fumes and several others were treated and released.


---
Copyright © 2004-2016, The X-Hunters. All rights reserved. Copyright Policy Privacy Policy Page last modified 01/30/2007